Thirty years of confidence
granted to flow simulation projects

Our clients are often large and well-known groups, but smaller companies, with equally interesting issues, have also called on our software and services.

The most famous are called Airbus, Air France, Alcan RioTinto, Areva, Ariane Group, Arkema, AstraZeneca, Aventis, BioMérieux, Bouygues, Bruxelles Mobilités, Chantiers de l'Atlantique, CSTB, Collins, Constellium, Cristal, Dassault Aviation, Danone, Dekra, ELI Lilly, Elkem, Estavayer Lait, Eurenco,  Fenwick Linde, Firmenich, Frontex, GlaxoSmithKline, Hager Electro, Ifremer, Klil Industries, Jacobs, Johnson&Johnson, Kelloggs, Kerneos, La Poste, Lafarge, MEDA, Monsanto, Mota Engil, Naval Group, Norpac, Novatech, OCP Maroc, Pepsico, Procter&Gamble, Quick Restaurants, Rhodia Solvay, Sector Group, Seqens, SNCF, Sofraden, Systra, Technip, ThyssenKrupp, Total, Toyota, Trivium Packaging, Unilever, Vico, Yoplait…
Our studies based on flow simulation have served many purposes:
Assign labor and equipment, test the efficiency of an investment, avoid queues of people, introduce a new product, analyze costs and manufacturing cycles, validate the fluidity of infrastructure for pedestrians, sizing kanban loops, testing production capacity, comparing evacuation routes, analyzing the profitability of a project and understanding its implications, reorganizing an administrative service, characterizing public reception areas, helping in  scheduling production, estimating the performance of an automated system, checking the fluidity of exchange centers, reducing stocks, work in progress, manufacturing cycles, etc.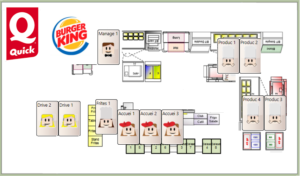 All perspectives, all parameters
It started with studying the impact of the "drive" on the surrounding roads, for several restaurant sites. Then the flow simulation won over the planning of the team members, the configuration of the workstations, the production ranges, the quality of the service...
1Point2 Simulation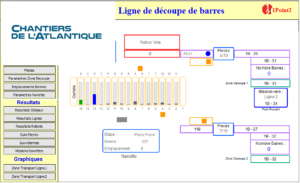 Robots on production line
Robots, cranes, skips and shuttles revolve around a new machine for cutting metal bars: applied to a production plan, it becomes a complex ballet whose simulation helps improving performance.
.
1Point2 Simulation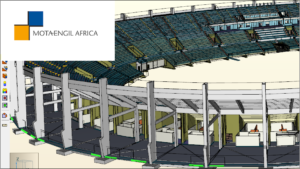 Security of matches at the Peace Stadium
Here the simulation must test evacuation scenarios, with a very large volume of people to evacuate from the "Stade de la Paix". Clearances and stairs have been sized to ensure safety and efficiency.
1Point2 Simulation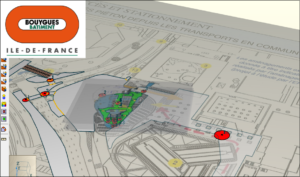 Converging towards a building
Between 8 a.m. and 9:30 a.m., more than 3,000 users of the Alto tower in La Défense arrive on foot, by metro, by car or by RER towards the offices building. A complex route which can be dangerous, and required fluidity checking at the entrances of the tower.
1Point2 Simulation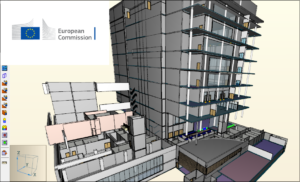 Entrance of a congress center
Congress attendees, speakers, translators, various staff converge on the reception desk some time before each conference or meeting: equipment and teams must be well sized to ensure both safety and comfort.
1Point2 Simulation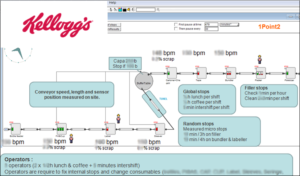 Looking for OEE
The model tracks down small stops or slowdowns that together impact Availability, Performance and Quality, and indicates ways to improve productivity, in particular through better sizing of conveyors.
1Point2 Simulation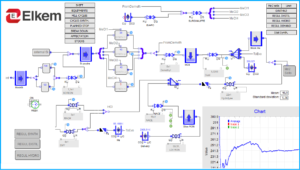 The best production plan?
The simulation here tests different production plans on a current and on a future installation, where certain products would be more prominent. Equipment and resources dedicated to certain product ranges complicate flows...
1Point2 Simulation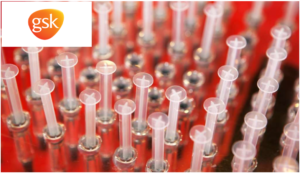 From bottle to pallet
1Point2 works regularly on drug packaging lines, having built generic tools that allow to play with the rates, the stocks of consumables to be refueled, the conveyor speed, the related movement of pallet flows.
1Point2 Simulation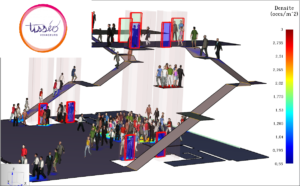 Travelers in the Toulouse metro
The construction of the 3rd metro line uses dynamic simulation to test the architecture of the stations and the layout of spaces as well as efficiency of vertical circulations.
1Point2 Simulation