ExtendSim V10 is a complete rewrite of ExtendSim using an industry standard IDE (integrated development environment), so as to benefit from technical capacities and enhanced interface (multi-threading 64 bits, flexibility in tool use and graphical features, etc.).
Par son adaptabilité et son confort d'utilisateur, ExtendSim se met au service de l'utilisateur (modélisateur ou utilisateur final du modèle). Le logiciel reste d'une grande efficacité dans l'emploi des blocs et la communication avec les autres applications, qui est renforcée, notamment via la base de données au cœur de nombreux modèles.
Une nouvelle bibliothèque de traceurs de courbes fournit des possibilités plus professionnelles pour présenter les résultats. Des blocs pour décrire des systèmes sous l'angle de la fiabilité sont proposés dans la bibliothèque Reliability, un module qui peut s'utiliser seul ou intégré à un modèle à événements discrets.
ExtendSim offers three full model developer versions : CP for continuous models, DE for discrete events world, Pro for advanced features (Rate library, reliability approach, import/export with Oracle).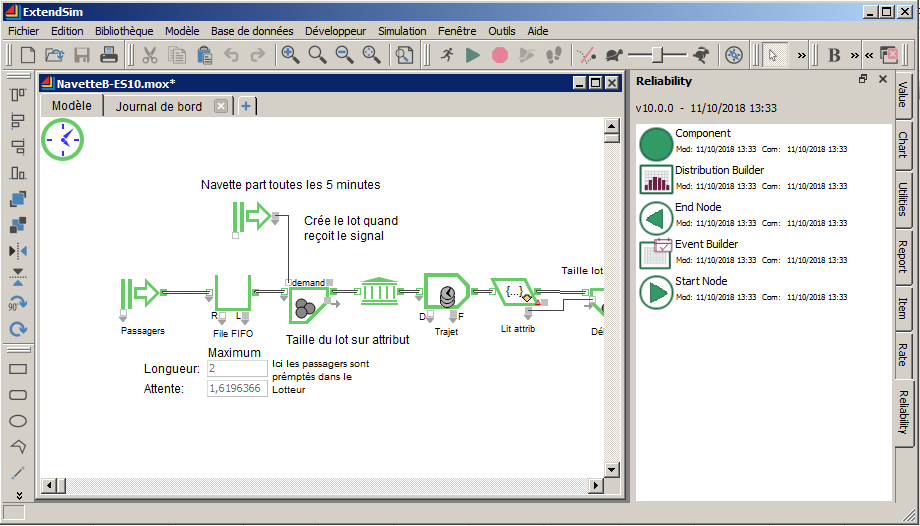 Lire le document sur les nouveautés ExtendSim 10.