1Point2 is an authorized company for vocational training and an ExtendSim training provider. Our courses are aimed at engineers, consultants and managers in Industrial Engineering, Logistics, Manufacturing, Planning Departments.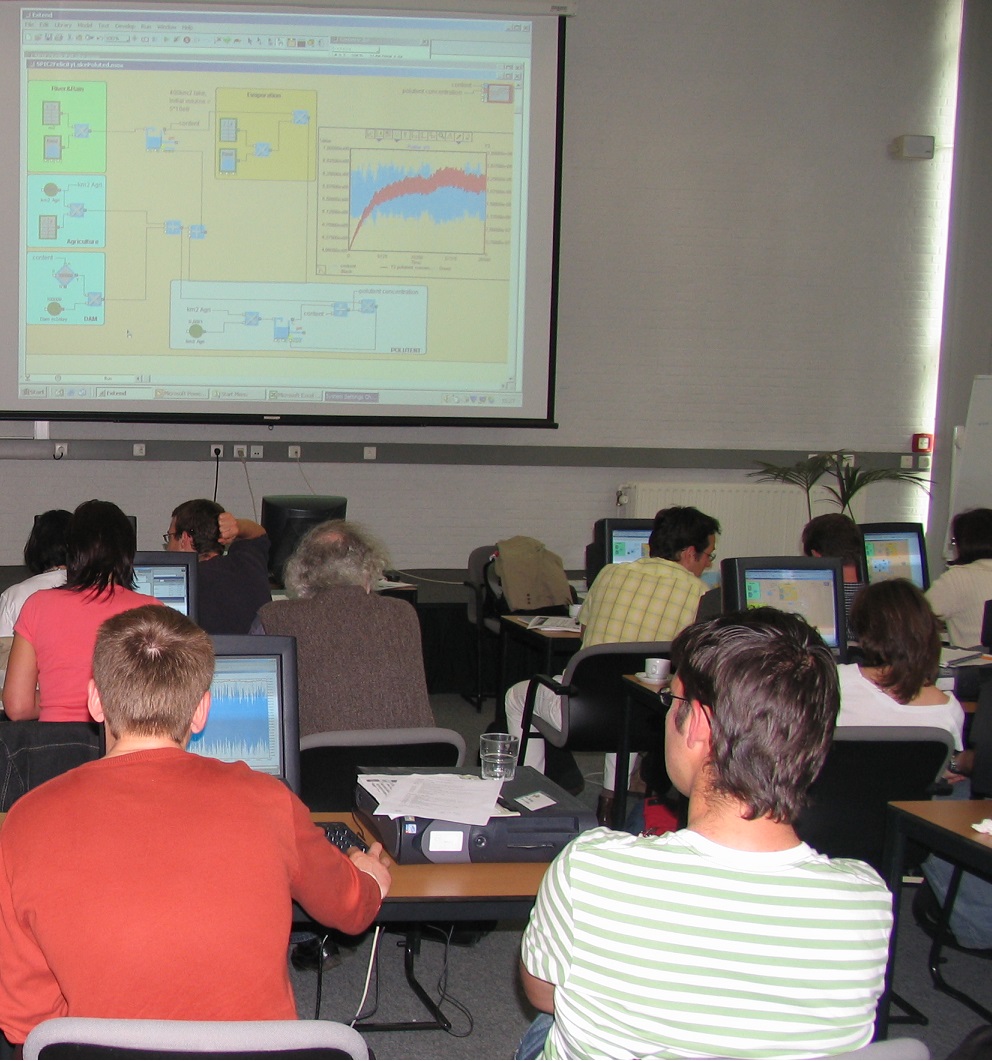 Our training sessions for groups up to 6 attendees are conducted by engineers working for 1Point2. With their expertise gained over the years, they focus on practical exercises, as well as understanding concepts and tools through concrete and immediate use. Half a day is usually devoted to a case study submitted by participants, which enables them to solve specific technical issues or to start a simulation project on the best basis.
Aside the first level course with ExtendSim, we created a 3-day course meant for regular users of ExtendSim who have already built models, with skills in advanced concepts and tools (animation, hierarchy, integration of databases, programming, block exchanges) and in some specific aspects of the software programming language.
Contact us if you wish to organize a training session in English.
We also offer on-line training (computer sharing + phone) on more restricted topics (2 hours approx.). Topics: Model presentation and model animation – Failures and interruption of activities – Reading and writing in the ExtendSim database – Using the Equation blocs more efficiently – other topics on demand.
Aim
Program
Simulation for Industry with ExtendSim (4+1 days)

EUR 1,640/2,050
per attendee

Future simulation project managers will learn the basics of ExtendSim and modeling techniques.

Attendees will be able to build various simple models by themselves.

Last day* is intended for users of ExtendSim AT

Discovering the concepts of simulation through various exercises
Using the ExtendSim libraries
Creating and using databases for simulation models
Linking continuous and discrete flows*
Batch production*
Process industry (bins, funnels, pneumatic transportation, etc.)*
Methodology for a simulation study
Creating worksheets for simulation results
Building simple models
ExtendSim for
Advanced Users (3 days) EUR 1,380 per attendee
Discovering tools and techniques for advanced models, being able to add complex features or interface to your models and programming rich equations and simple blocks.

Prerequisite:
Basic knowledge of simulation concepts and ExtendSim software. Some knowledge of programming.

Advanced and contextual animation
Professional use of the database
ModL programming language
Programming decision blocks
Advanced use of equation blocks
Use of the debugger
ExtendSim data structures
Case study, according to problems submitted by attendees
Scheduling (2 days)

EUR 820 per attendee

Teaching scheduling concepts and methods to people from Production, Planning and Scheduling departments. Prerequisite:
Basic knowledge of production.
Definitions and concepts
Workload and capacities
Performance indicators
Case study – schedule building, methods comparison
Training illustrated by software models for manufacturing systems, thanks to dynamic simulation